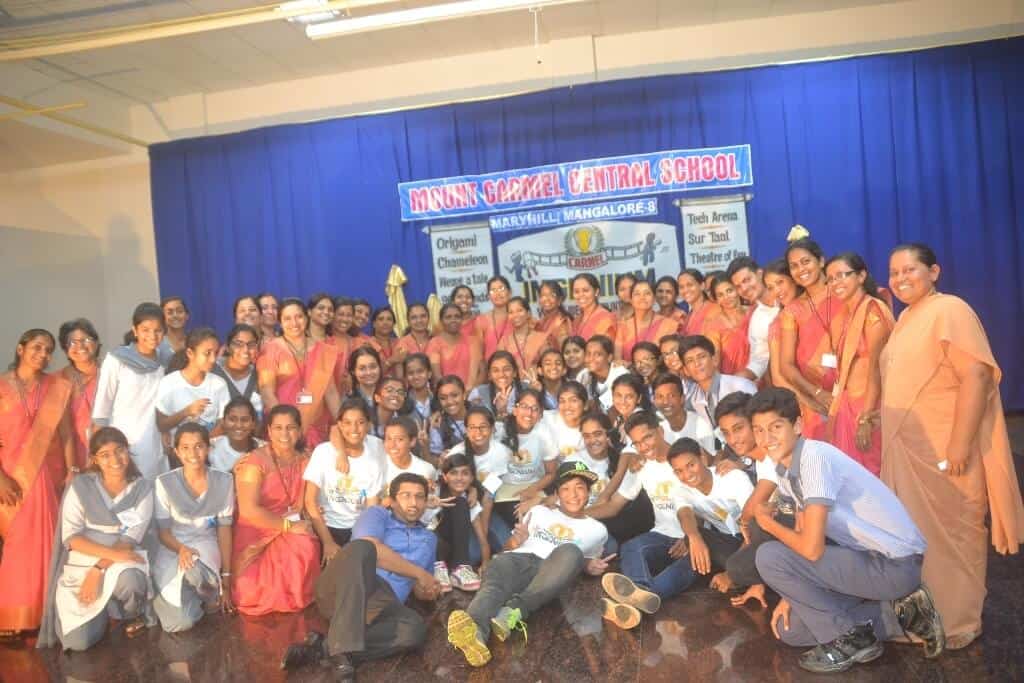 09 Nov

"Carmel Ingenium – The First Ever Inter School Fest"

CARMEL INGENIUM – An Inter School Fest – Where ideas turn into reality

A one day cultural, literary and technical fest, Carmel Ingenium was organized by the students of Mount Carmel Central School in the school campus on the November 9, 2015. What marked its uniqueness was the fact that it was a wholly students planned, organized and executed event with guidance from teachers.

An interesting mix of individual and group event had been conducted that included various fun filled activities like chameleon, sur- taal, 90 seconds to fame, quiz, mad ad show and technical events. A total of 17 schools in and around Mangalore – CBSE, ICSE and State Board schools participated in this event.

'Carmel Ingenium' was inaugurated by Mr. Ananthesh Prabhu, partner, Aruna Industries escorted by our Principal Sister Melissa, teacher coordinator Mrs. Basty Latha Shenoy and student coordinator Ms. Radhika Bansal at 9:00 am in the school auditorium. Mr Prabhu recalling his college days at St Aloysius college when he was involved in many cultural events said that cultural, literary and technical fest like these will unleash the hidden talents among youth where they showcase them to the outside world.

"Making sense of abundant information, analytical skills and decision making skills will be highly priced in the near future. Keeping this unknown trend in mind, we have initiated a methodology in which we nurture our students towards attaining their long term goals. 'Carmel Ingenium' Fest is one such attempt where our students have taken the responsibility under the guidance of their mentor Manoj Louis, and staff coordinator Latha Shenoy. I feel proud and elated that the young minds can come up to this rung of the ladder to have this mega event at the school level holding the saddle in their hands with open transparency and accountability. Hats off to you dear students" added Sr Melissa AC.

Soon after the inauguration the events began in full swing. The first event after inauguration was 'Chameleon', which was a new and innovative one in which the participant had to speak both for and against the topic allotted to him/her. It was followed by other events like: Tech Arena, Weave a tale, Origami Art, Theatre of Fun etc. After lunch, the remaining events were conducted simultaneously. The last event 90 Seconds to Fame came to an end by 3:10pm and as scheduled the Valedictory Function began at 3:15pm.

The Chief Guest for Valedictory Function was Dr Prashant Marla, Medical Director, AJ Hospital who was, again, accompanied by our Principal, teacher coordinator Mrs. Basty Latha Shenoy and student coordinator Ms. Radhika Bansal. Talking on the occasion Mr Marla said that "Happiness and fun develops in school-students should avail all the opportunities that the school offers in co-curricular activities and such. In the same time you should also respect your teachers and adults without any discrimination. Work in unity for the betterment of your school, yourself and the community".

Few students from the participating schools expressed their opinion, and all of them thanked the school management, staff and students for organizing this event very successfully. Not only were the winners awarded at the valedictory dais, but the students involved in the planning and execution of the event were awarded too with a certificate of recognition. Our students Ms. Lolita, Ms. Frizzell and Ms. Sheetal Pillai were honoured for their contribution in terms of suggesting the event name, logo design and theme song.

St Theresa's school won the overall championship while the runner up trophy was bagged by Cambridge School. With this the event came to an end.

The aim of this event was, one, to provide a forum for students to showcase and discover their talents. Also, the second aim behind it was to help the students to develop their organizing skills and be capable enough to take up individual responsibilities. This event, for sure has successfully achieved these aims. The students at the end expressed that they hope having such events in the school, in the coming years too. Our students did not take part in any event, but showcased their talents of dance, singing and acting during the inauguration as well as in between the programme.