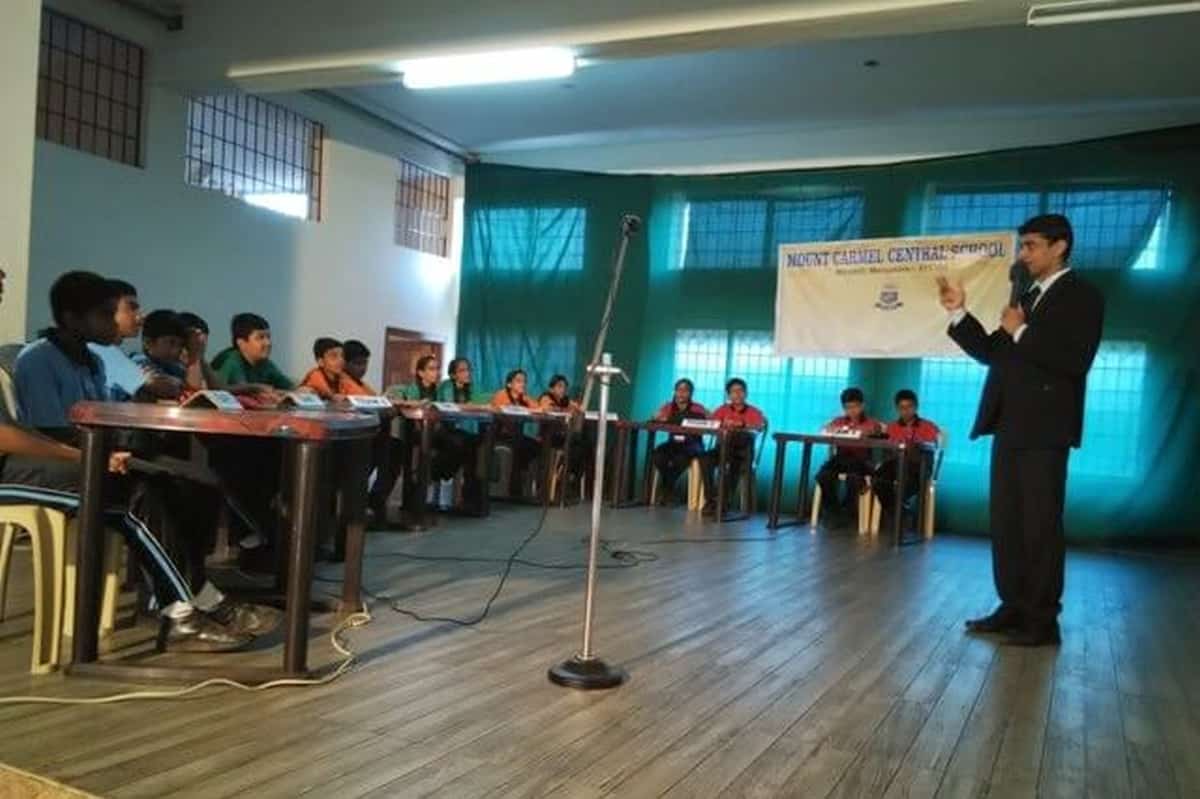 30 Oct

Brain Quest – 2015

The Mount Carmel Central School witnessed the battle of the brains at the finals of 'Brain Quest', an inter- house quiz competition, conducted on Saturday, October 30, 2015. The competition was divided into two categories – Group A for classes 6 to 8, Group B for classes 9 to 12.

The quiz was conducted by the young and dynamic quiz master – A Akshay Subramania, who is currently pursuing third year MBBS, at A.J Institute of Medical Sciences, Mangalore.

The first to take the stage for the 'Finals' were the students of classes 6 to 8. Mazes of intuited and interesting questions were asked to the students, testing each aspect of the educational knowledge base like current affairs, famous quotes, science etc.

Students of classes 9 to 12 too had their finals on the same day. Three highly different rounds were set up to the quiz. The quiz had a rapid fire round which made it more exciting for the students and the audience both.

The ambience inside was electrifying as along with the contestants, the audience too left no stone unturned in answering logical, literary, scientific and brain-teasing questions. Students applauded the new format of rounds conducted and enjoyed it thoroughly.

Mr. Akshay who has conducted over 75 shows of cultural events all over India looked cheerful, conducting the quiz for our students. When questioned about his very first experience at MCCS, he said: "It was a good experience to be with young school students of MCCS in Mangalore." He also added, the competition was of a very high standard and the students did extremely well. The overall experience of the quiz conducted can be summed up as exuberating, motivating, enlightening and engaging.

From Junior group, the First place was bagged by Varun T and Bevan Avil Pinto from house Blue Bells, Second place by Melrie Joseph Crasta and Himanshu M.J from house Blue Bells and Third place by Sana Azmiya and Abigail Rachel Albuquerque from house Orchids.

From Senior group, the First place was bagged by Harsha D'Souza and Sohan Saldanha of class XI Science, Second place by Chris Orlin Cardoza and Arolin Blossom Miranda of class X and Third place by Deeksha Prasad and Ashni M. Bhagvandas of class XII Science.

The preliminary round of the inter-house quiz contest was conducted on October 14, 2015. Two teams from each of the 4 houses were selected for the finals.